About EMB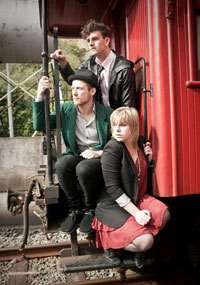 Esther Melody Band (EMB) is all about musical adventure, exploring the realms of possibility in creative expres-sion, life on the planet and beyond. Being the serious God bothering geeks they are, they have crafted a vision "to unite a generation in song with Jesus Christ and his church through a lifetime of adventure in support of world literacy and spiritual freedom", in short - musical world domination.
It all began with Esther herself who kicked off on her own, but realised that while her 4 ½ octave vocal range was a great platform for a solo career, she had bands in her blood. Her brother Caleb joined her as the core of the Band after deciding his sister"s music actually rocked and demonstrating genuine resolve to get his act together.
Having worked with award winning artists/producers such as Tui winning Chris White (the Lads), Brad Dring (Rapture Ruckus), Nic Manders (Brooke Fraser, Mumsdollar), Oscar winning Mike Hedges (Lord of the Rings and King Kong) and Grammy/Dove award winning Joe Baldridge (DC Talk, Toby Mac, Family Force 5), the brother and sister team from Wellington, NZ are now creating their own sounds with their brand new Praise and Worship EP, "You are our God" being the first EMB self production. The current line up includes Immanuel Hay and Jason Ra-pana on guitar and bass respectively.
On both the music and ministry front exciting developments are occurring at home and abroad, so EMB have de-termined they wont die wondering, are praying earnestly and working hard to fulfil their global dreams.